Heavy Lifting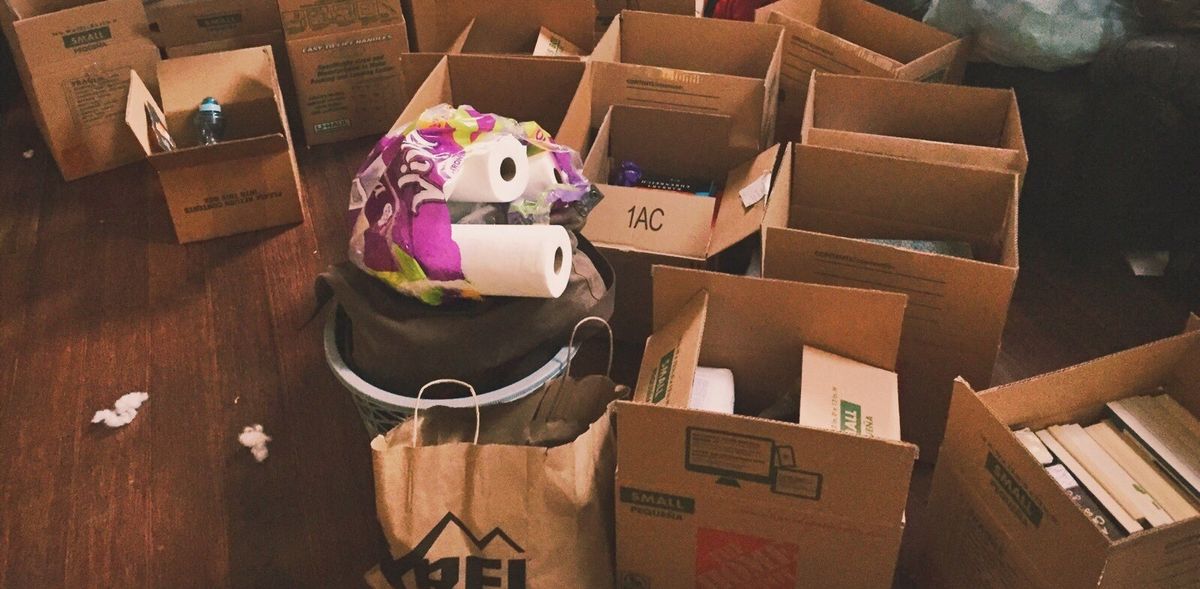 "To hold one end of something heavy and be aware of another person's movements, feel them transmitted through the object, is an experience all its own. I can tell if the other person is adept at carrying if they show me consideration or just think of their own burden…anyone who is able ought to lift something together with another person from time to time; it is a good way to get to know one another."
Ole Thorstensen
Since 2010, I've moved 8 times. My childhood home had been foreclosed, and while my parents managed to forestall the process for a couple years, we finally had to move out in August 2010—just a few days before my 20th birthday. I've moved every year since.
Every move, I called "my friend with the truck."
You know the one—he's the good-natured friend, easy to bribe, and owns a pickup.
Mine was Ricky Stoner. For a guy who did not move very often, he knew how to pack his truck effectively with the unwieldy, largely worthless belongings of a twentysomething. Every year, he showed up with his truck, I would load it up, and he would take me to my new home.
Celebration with the 'Mover's Feast'
From 2014 onward, I'm glad to say that I moved from good living situation to good living situation, but prior to 2014 I found myself looking for anyone who would take me in rent-free for a few months at a time. It wasn't fun for me (or for my brother, who was in my care for a great deal of 2013). I was under a great deal of pressure, both internal and external, and it felt like my own life was getting away from me whenever I had to pack up and leave.
Ricky was there with me every time, celebrating my upward trajectory with the Mover's Feast: Little Caesar's and unrefrigerated Gatorade.
In all that time, I never helped Ricky move—I never needed to. He owned a home and lived in it the entire time.
A few weeks ago, Ricky and his family moved to Texas.
He had spent several weeks packing up and organizing, living up to all of the times he said he hated "unprepared" movers. He scheduled a "packing day" the Saturday before the big trip—a handful of his friends showed up and helped him pack up a trailer he had carved out of the remains of an old Land Cruiser and an ancient box truck he bought off of a guy he met on the Internet, I think.
(The gas tank came off a few hours after he bought it. Spoiler: the box truck did not make the trip.)
He and I moved his mattress like we had so many times before. We picked up boxes together, moving around banisters and through hallways like we had dozens of times prior. We didn't need to communicate much—we just handled it.
One time, my wife-to-be and I tried moving a couch together, and I realized that I had taken for granted all the times I had moved with Ricky, how we had taught ourselves the language of navigating tight corners with heavy objects without using our words.
The next day, Ricky made his goodbyes to our circle of friends at church.
My goodbye was underwhelming. We hugged and I mumbled, "see you later" or something like that.
Later, I felt like I had let us both down. I had let slip a really meaningful moment—maybe the last one we would have for a while.
But then…I read what Thorstensen wrote about lifting heavy things together, and I thought differently of it. Our friends and acquaintances took their goodbyes in words and hugs and inside jokes. I took it from something that meant more to me—I took my goodbye in one last move, one last act of collaboration.
Ole Thorstensen, a master carpenter and a man accustomed to working with others on difficult projects, finished his meditation on "lifting heavy things" with this:
"When carrying together, we cannot take more weight than the weakest of us can manage; two people are as one."
For much of my friendship with Ricky, the "weakest" of the two of us was me. Still, he was there, helping to carry my burden. I'm glad I was able to return the favor, even just once. I'm glad to say that Ricky was a friend I could trust to lift heavy things with me.